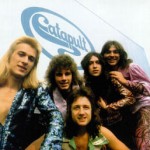 02.10.2013
–  Rubberen Robbie = Catapult = The Monotones = Dynamic Seven = Ome Henk. 
Zo simpel is eigenlijk de muzikale geschiedenis van
Aart Mol en zijn kornuiten uit Leiden te beschrijven. Onder deze en andere namen haalden zij ontelbare malen de hitparade, met gekende hits die zij zelf speelden / zongen: Mono (The Monotones), Let your hair hang down en Teenybopper band (Catapult), en de nummer 1-hit De Nederlandse sterre die strale overall Rubberen Robbie, een parodie op The Stars on 45).
Cat Music werd de naam van hun eigen uitgeverij en platenmaatschappij. Aart Mol en de zijnen schreven ook hits: 40 stuks voor André Hazes (Het is koud zonder jou, Een beetje verliefd, etc), voor Lia Velasco, de Internationals en voor Patricia Paay (Who's that lady with my man en Livin' without you).
 De heren waren ook verantwoordelijk voor jingles op de radio. De mooie eenstemmige jingle 'K-R-O- Hilversum III'
was van hen. In mei 1979 maakte de groep jingles voor Caroline en in de jaren tachtig werden twee pakketten ingezongen voor Radio Monique. Ook maakten zij jingles voor Veronica 192, Radio Mi Amigo, Veronica komt naar je toe deze zomer en de TROS (Polderpopparade en andere dingen). In Het Tunesboek komen zij onder meer voor met de nummers Invaders from space (Dynamic Seven, tune van Radio Monique) en Mono (The Monotones, tune van Mono).